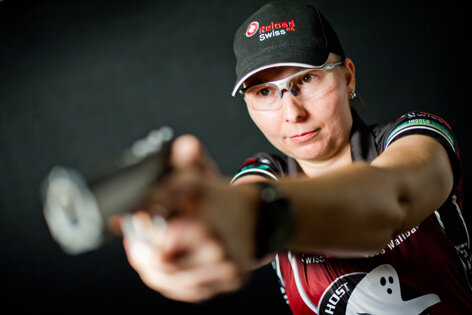 Christine was born on 23 September 1977 in Burgdorf. After graduating from high school, she began a commercial apprenticeship programme with the municipal government in Heimiswil. At Interdiscount AG in Jegenstorf, she spent nine years gaining experience and honing her skills in the in the field of finance. Since 2007 she has been with a trust company in Münchenbuchsee, responsible for the accounts of various companies.
Prior to 2007, Christine had very little to do with shooting, apart from taking part in a 300m shooting course for young people. She learned about dynamic IPSC shooting by coincidence from a colleague, which made a lasting impression on her. She has been intensively training ever since, participating in various competitions at home and abroad. Besides gaining three Swiss championship titles, her most successful moment to date in dynamic shooting came when she took third place at the European Championship in Portugal in 2013 – and of course becoming Vice World Champion in the Production Division in Florida in 2014. In 2016 Christine won the European Championship.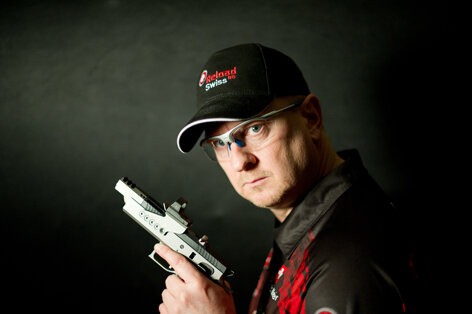 Dominic was born on 8 August 1969 in Bern. After completing school, he underwent vocational training as a machine mechanic at the automotive company AEBI in Burgdorf, and worked in customer service after performing his military service. In 2007 he began a new career, becoming a financial services manager with Swiss Life, where he continues to work in sales, serving corporate and private clients alike.
He discovered his passion for shooting at an early age. Starting with an air rifle and later moving on to 300m precession shooting, Dominic discovered dynamic IPSC shooting in 1992. Thanks to his good results, he was invited to join the Swiss national team at the end of 1993, which he still belongs to today. With seven championship titles to his name and over a hundred wins in national and international competitions, Dominic is one of the most successful IPSC shooters in Switzerland.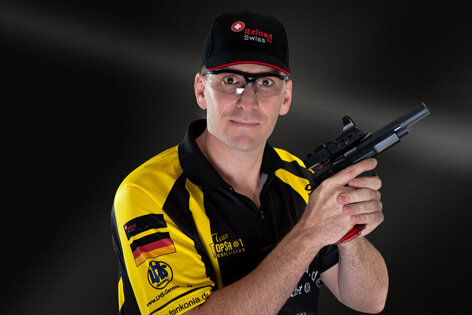 Nils was born in Mainz, by the Rhine River, on 19 September 1976. After completing school, he earned a vocational qualification in power electronics with an automotive company based in Rüsselsheim, where, after a series of continuing education courses taken on his own time, he has since been promoted to a management position in company security.
Nils was introduced to dynamic shooting as a sport at the age of 18 by his older brother, and started out in the open class. From the outset, he succeeded in placing among Germany's top shooters. In recent years, he has accumulated an impressive array of champion and vice-champion titles in various dynamic and static disciplines in multiple weapon categories, and is an established member of the German national team. With his 13th place in the 2013 IPSC European Championship and 22nd place in the World Championship, Nils has cemented his standing among Europe's top ten.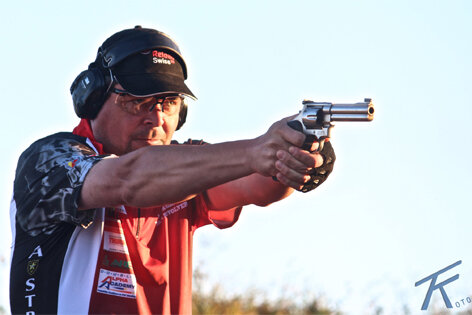 Gerald, 43, is an IPSC shooter in the IPSC Austria Region. Gerald started shooting in IPSC in the Standard Division in 2006. After two years, he moved to the Production Division, where he competed successfully until 2012. As a Production shooter, he won numerous President's Medals (in Austria, Germany and Canada).
In June 2012, he shot his first international match in the Revolver Division. He entered the Extreme Euro Open 2012 to test himself internationally in the run-up to the European Handgun Championship 2013. In his first time out, he succeeded in placing second in a field of extremely strong international competitors. Following the EEO 2012, he began devoting himself intensively to revolver training. In Autumn 2012, just months later, he won his first level-three match in the Revolver Division in Germany. From that point on, he shifted his focus entirely to revolver shooting in preparation for the EHC 2013. In 2013, this success story culminated in his winning the ECH in the Revolver Division and becoming European Handgun Champion. As a member of the Austrian National Revolver Team, he took second place in the team competition.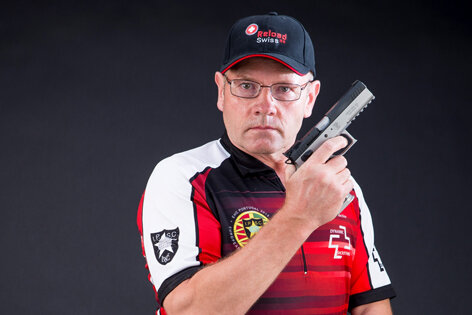 Peter was born in Basel, Switzerland, on 29 December 1958. After completing school, he learned the trades of carpentry and roofing. In 2000, Peter was able to realise his dream by building a training centre for dynamic shooting in his home. Every year since 2002, he has organised a variety of competitions at this range, where he also offers various courses as a shooting instructor. In 2012/2013, he also qualified as a diving instructor. Today, Peter manages his own consulting and management company, Luminous Management GmbH.
Peter did not start shooting until the age of 30; fascinated by all disciplines, be began shooting pistols, revolvers, shotguns and rifles. But it soon became clear that pistol shooting was the division for him, and he's been a member of the Swiss National Team for over 20 years. The fact that he's a World Champion, European Champion and 16-time Swiss champion testifies to his constancy in the IPSC scene. He wants to continue shooting and pass on his experience to rising new talents. Promoting young shooters is a is particular passion of his.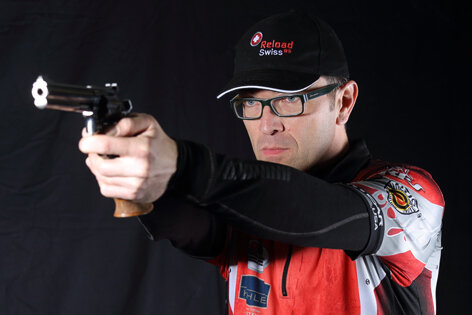 Sascha was born in Eberbach am Neckar on 1972. He is married and has three daughters. He earned a degree in economics at Heidelberg University, and then began his career with a consulting firm based in Mannheim. After gaining experience in a variety of assignments, he became an independent consultant in 2008.
Sascha began shooting competitively in 1986, in air-rifle shooting. Starting in 1989, his main athletic focus shifted to mountain biking. He returned to shooting in 1994, initially in centerfire, but soon moved on to the IPSC Revolver Division. Sasha has been consistently successful in this division since 2005.
In addition to the Revolver Division, Sascha also regularly shoots IPSC Rifle and Steel Challenge.