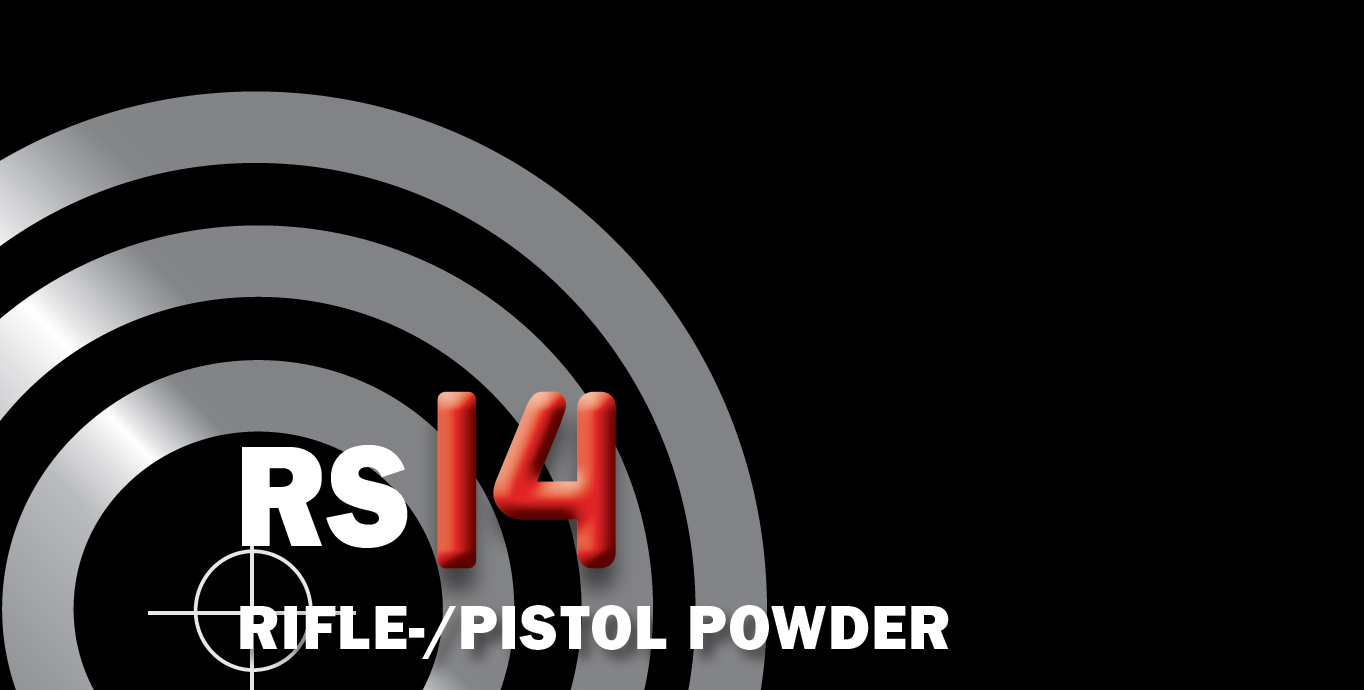 18/10/2022 | Hints from the experts
Dear Reload Swiss family,

We are proud to announce there will be a new addition to our product family in the fourth quarter of 2022. The new powder has been named RS14 and is suitable for cartridges that were originally designed for black powder propellants (e.g. .45 Colt), for reduced loads (if the permissible muzzle energy at the shooting range is limited), for subsonic ammunition and for training situations with handguns where the aim is to shoot with reduced power, but still with a good filling level.
What led us to accept this challenge? Some time ago now, we were told that it is proving increasingly difficult in Europe to get hold of a unique powder from a U.S. competitor. Apparently, this powder's special feature is that you can almost always just about fill the case without worrying about excessive pressure. We were asked whether we could produce something similar. When we took a look at the benchmark powder, it turned out to be cut very thinly. This is done using a cutting technology that is not available to us in Wimmis. Besides the form of the powder, its very low bulk density of just a little over 300 g/l also impressed us. This is combined with a vivacity that, although high, is not exactly through the roof. Our thinking was that the low bulk density would require our powder to have an extremely high porosity, which would result in a much higher vivaciy than that of the U.S. powder. Only very late in the day did we notice the relatively low energy content. This naturally also reduces the vivacity. Armed with this knowledge, we launched an initial sample production operation at the end of September 2020. The two samples already represented a very good start at the time (in terms of bulk density, energy content and vivacity). The vivacity was even a little below the level we were aiming for. Following targeted adjustments to the manufacturing parameters and further sample production operations, the reference sample was mixed at the end of 2021 and will serve as a guideline for the product in the future. In 2022, we then obtained certifications, prepared the data sheet, drew up the safety data sheet, generated initial load data, spoke to the importers and provided initial samples for opinion-forming purposes.
In terms of shape, you are primarily used to single-perforated powder and flake powder. With RS14, we are now introducing a T-shaped powder. Fear not – you barely see or notice the shape. Dispensing from standard dispensers is very uniform and reliable. What's more, we have a great deal of experience with such powders in military applications. Consequently, they are only new in reloading applications.
The first batch was produced some time ago and we are currently working on the second in order to ensure supplies. RS14 has a bulk density of approx. 320 g/l, an energy content of approx. 3,250 J/g and a vivacity just below the benchmark that has already been referred to several times. Overall, we come very close to the benchmark at the range. In our opinion, we have successfully kept our promise of producing something similar. And it goes without saying that the new powder is REACH-compliant.
So, it's now up to you to see what you think of our latest addition to the Reload Swiss family. We hope the powder helps you make lots of cartridges that bring you enjoyment and success.
On behalf of the Reload Swiss Team
Jan Krcmar
Pascal Beer
Urs Altorfer
Dominik Antenen