14/09/2023 | Hints from the experts
Ten years of RS – shooting with RS50
Dear reloaders,
Modern nitrocellulose powders and high-quality nitrocellulose have been developed and produced in Wimmis in Switzerland for more than 100 years. Nitrochemie Wimmis AG has existed under its present name since 1998. The milestone of most interest to reloaders came in 2013, when Reload Swiss RS® powders were launched onto the market. That makes 2023 a special year, as they celebrate their tenth anniversary. Over the past decade, the RS products have earned the confidence of some of the world's top competitive shooters, hunters and amateur shooters alike. This success is due to the following factors in particular:
A hundred years of experience in civil and military powder production
Well-maintained load data, pooling know-how with RS users (customer load data), tips & tricks, developing new RS® powders in line with reloaders' needs
A high-performance distribution network throughout Europe
Meticulous quality control from production to packaging ensures consistent manufacturing quality for the most demanding shooter requirements
The final point in this list is very important. Our quality assurance processes were mapped out by Urs von Mühlenen (see the article on quality assurance), and it is thanks to these complex processes that we can ensure reliable batch-to-batch consistency. Ultimately, the difference between a test batch (shot in the reference calibre) and the reference batch should be a maximum of V5 ±12 m/s and Pmax ±250 bar.
But is this really the case? Let's check all the batches of a popular RS® powder in a common calibre.
Shooting a .308 Winchester with RS50
The single-base RS50 powder and the .308 Winchester calibre were chosen for the shots. This is a typical and highly popular combination. The reference powder P 05013 Ws/R was produced in 2013, and a further seven batches of RS50 have been sold since then. The shooting configuration is set out in the table below:
| Load | RS50 44.6 gr |
| --- | --- |
| Filling level | approx. 98% |
| Test barrel | Barrel length 600 mm, twist rate 1:12" |
| Case | Lapua |
| Bullet | Sierra MatchKing 2200 168 gr |
| Primer | RWS 5341 LR |
| Cartridge length | 71.1 mm |
| Temperature | 21 °C |
| Shots per group | 10 |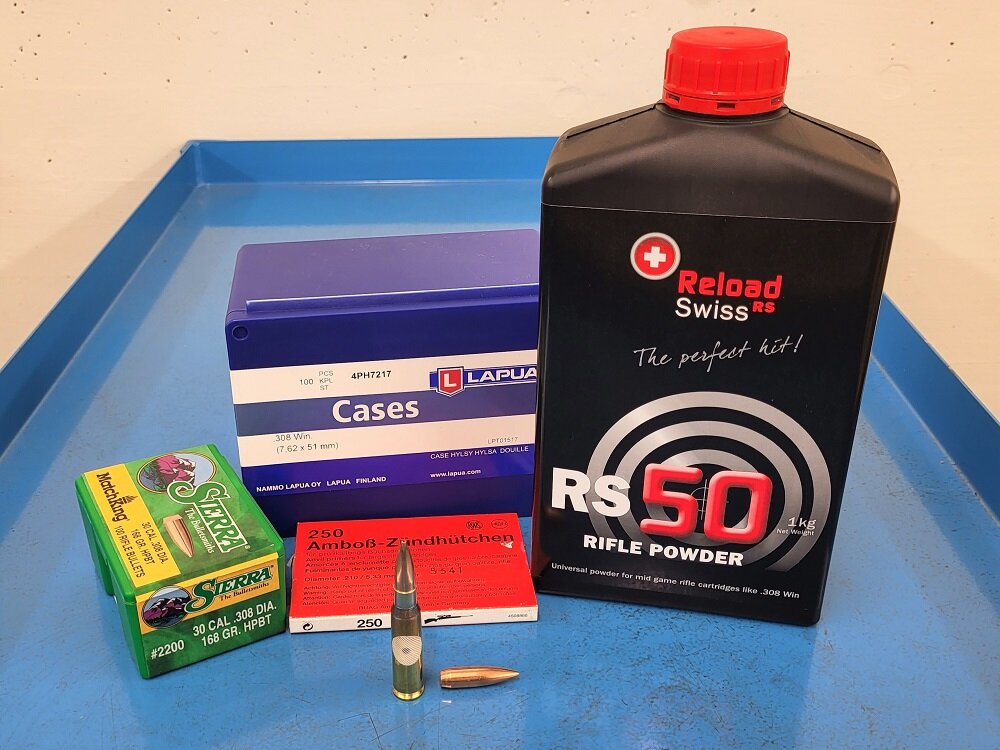 The new Lapua cases were drilled for the CIP pressure measurement, but not calibrated. The bullet extraction force was reproducible at 640 N. The load of 2.89 g (44.6 gr) was weighed out on the analytical balance with an accuracy of ±0.001 g. An RCBS Gold Medal Match die, screwed into the Turban Präzipress high-precision press, was used to seat the bullets. The cartridges were then tempered for one day at 21 °C. It is important to note that all powder batches were stored at 15 °C for many years without any exchange of moisture. The moisture of the reference powder is checked on a regular basis.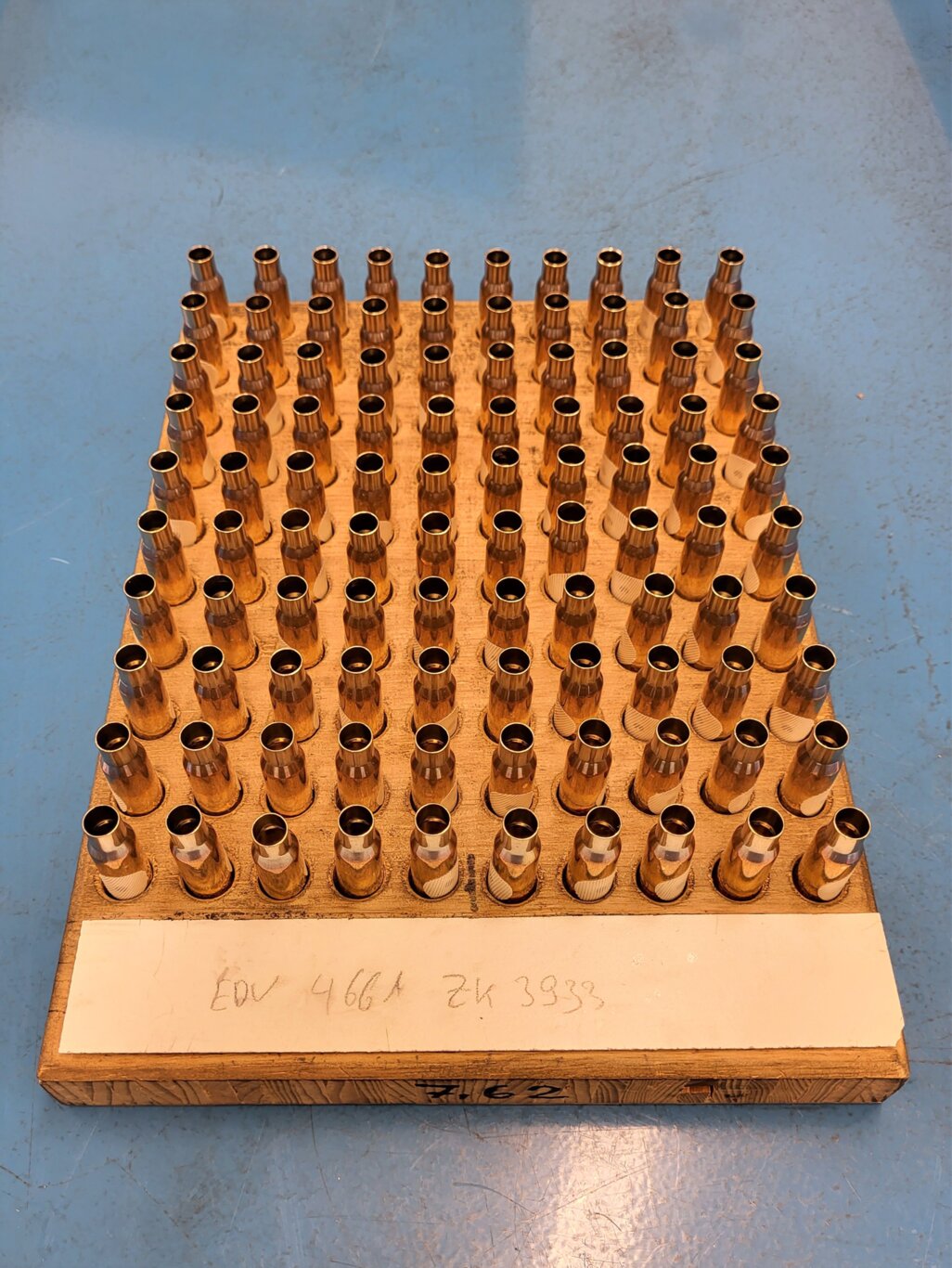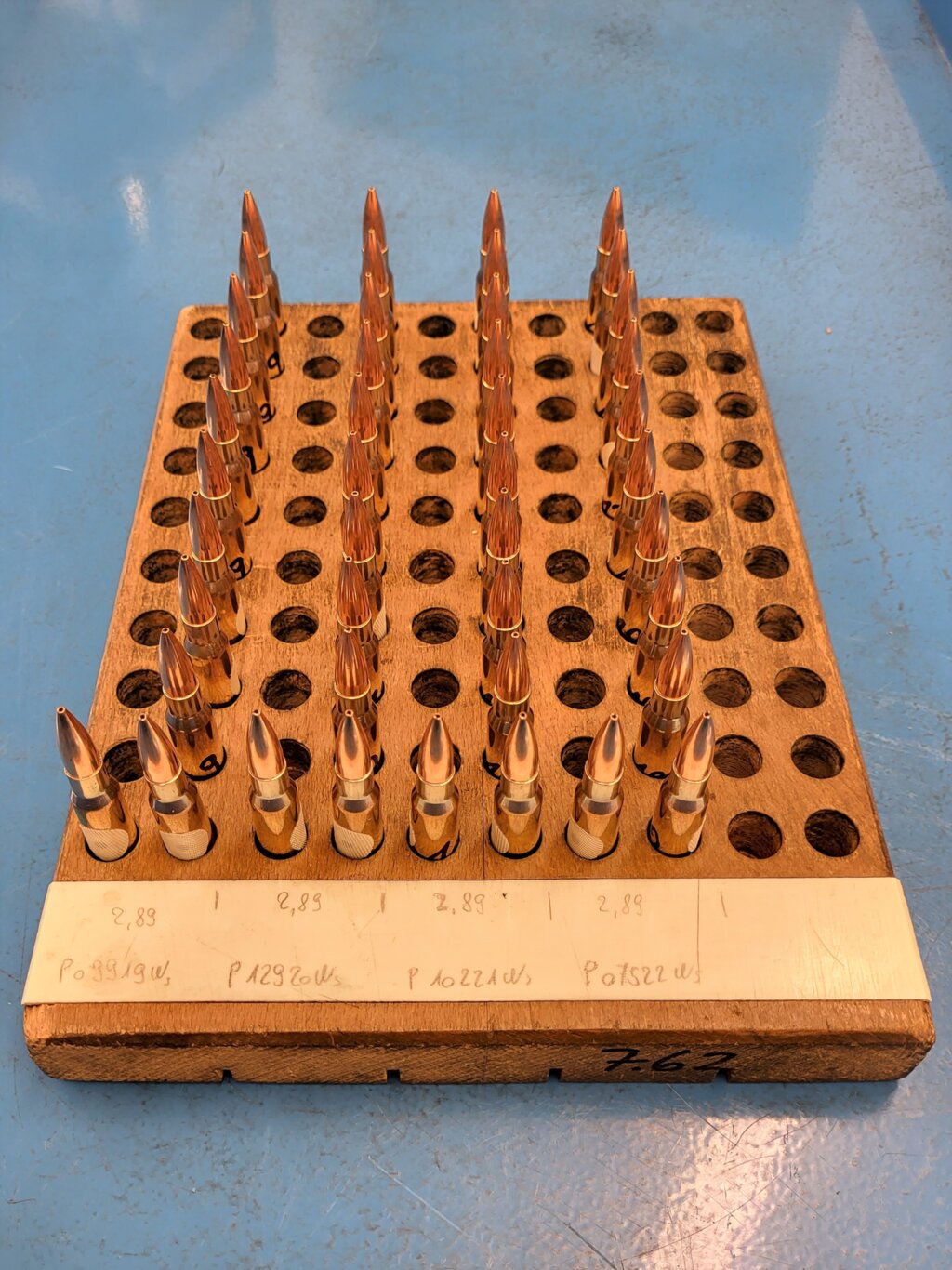 The shooting sequence for each batch of powder was as follows:
One warm-up shot
Ten shots for a powder batch
Quick clean of the barrel (brush, cloth)
Cooling down of the barrel with compressed air
The results are shown in the following diagrams. The mean values for the reference powder are 803 m/s and 3783 bar, so it is a strong load. The mean values for the subsequent powder batches are very close to these figures. Only the third batch – P 14616 Ws – is a bit more sluggish, making it the sole exception that proves the rule. Batch P 14616 Ws satisfied all ballistic requirements at the acceptance test (another configuration).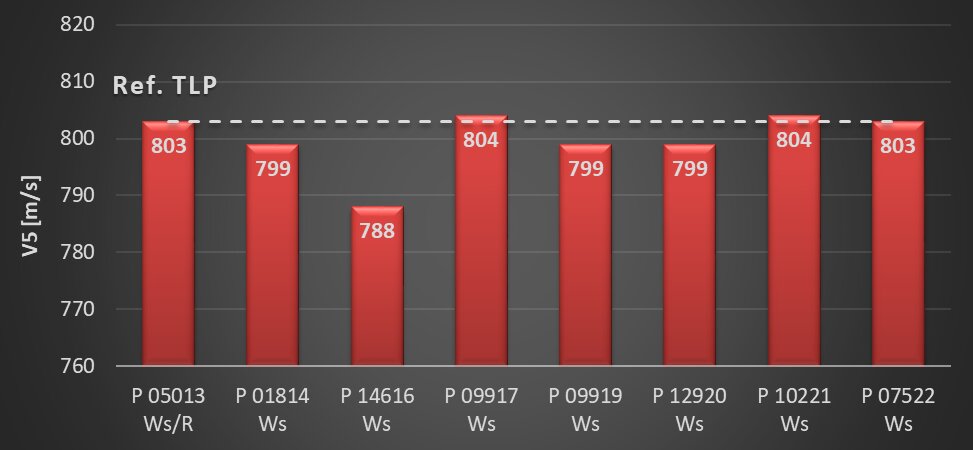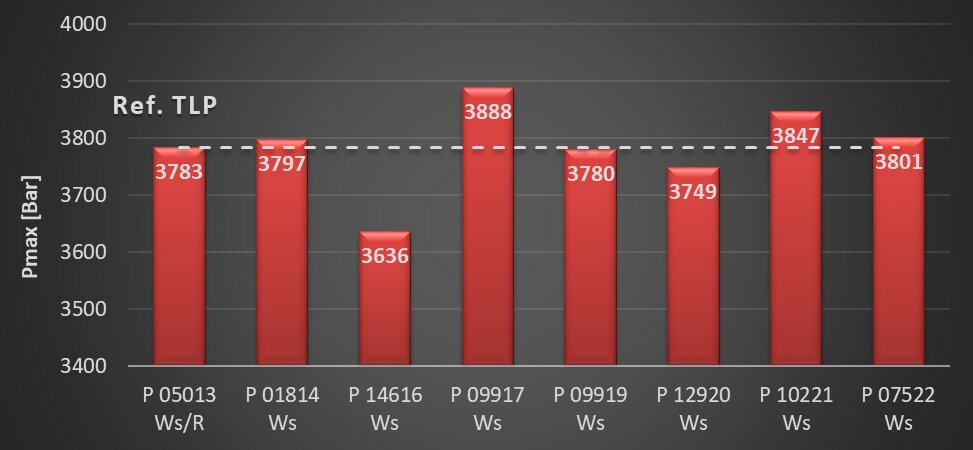 The V5 and Pmax extreme spread was also very low; the worst standard deviation (SD) value, at 3.0 m/s, is still very good. Compare the data in the table below:
V5

Pmax

Diff. to reference powder

Mean value

SD

Extreme spread

Mean value

SD

∆ V5

∆ Pmax

Batch

m/s

m/s

m/s

bar

bar

m/s

bar

P 05013 Ws/R

803

2.0

5

3783

42

-

-

P 01814 Ws

799

2.3

8

3797

51

-4

14

P 14616 Ws

788

3.0

8

3636

61

-15

-147

P 09917 Ws

804

1.8

5

3888

43

1

105

P 09919 Ws

799

2.0

7

3780

48

-4

-3

P 12920 Ws

799

2.1

6

3749

43

-4

-34

P 10221 Ws

804

2.5

9

3847

57

1

64

P 07522 Ws

803

2.9

10

3801

57

0

18

With one exception, all batches are a maximum of 4 m/s below and 1 m/s above the reference value of 803 m/s. This confirms that the quality of the powder is good and always consistent. The maximum pressure deviation from the reference value is just 147 bar. These are also good results.
At the end of the shooting test, other brands of LR primer were tested. The best extreme spread was achieved with Federal 210, while the cheapest primers from S&B were somewhat "weaker", but still showed good extreme spread. In this test and with this configuration, CCI BR-2 did not produce results that came anywhere close to the others. Here once again, there were ten shots per group:
V5

Pmax

Mean value

SD

Extreme spread

Mean value

SD

Primer

Batch

m/s

m/s

m/s

bar

bar

LR

P 05013 Ws/R

803

2.0

5

3783

42

RWS 5341

P 05013 Ws/R

794

2.3

8

3544

52

S&B

P 05013 Ws/R

803

1.9

5

3666

51

Federal 210

P 05013 Ws/R

808

4.0

11

3769

91

CCI BR-2
RS50 powder is very consistent from one batch to the next.
With good components, very good V5 extreme spread is achieved with all batches.
We would like to thank our production team for their excellent work and express our particular thanks to Urs von Mühlenen, who was the small calibre project manager for a long time.
On behalf of the Reload Swiss Team
Jan Krcmar
Urs Altorfer
Dominik Antenen